April School Holidays: Top 15 Things To Do 
If you haven't been to Griffith with kids, you might be surprised, especially these school holidays.
From egg hunts to art workshops, theatre shows to roller discos – there is so much happening, your children will be spoilt for choice.
Griffith, renowned for its authentic foods, is also a bustling regional centre with so much for the whole family to enjoy.
Here is our list of the top things to do in Griffith with kids this April school holidays:
Glow Roller Disco
Take your skates or hire a pair of the fashionable Impalas for a classic roller disco. Dress up for the occasion and enjoy skating under the disco lights at Griffith Regional Sports Centre on Thursday 6 April 2023. Cost: $25 via Griffith Easter Party Roller Disco | Facebook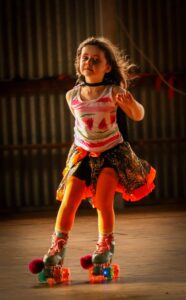 Pioneer Park Action Day
Take the kids back in time with the annual Pioneer Park Action Day, where the museum comes to life! Kids will love the range of entertainment, market stalls, vintage machinery and demonstrations, where they get a taste of what it was like 'back in the day'! There will be food and beverages available. More info via: Griffith Pioneer Park Museum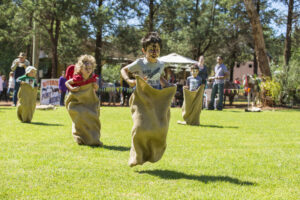 Animal Zoo & Live Music
Whitton Malt House is ticking all the boxes on Saturday 8 April 2023, with their animal zoo, Easter egg hunt, live music, kids' activities and more! Your kids won't want to leave the premises. More information via Whitton Malt House | Facebook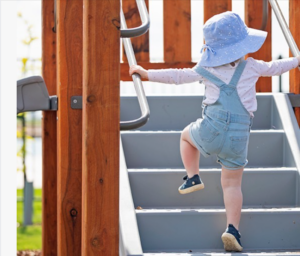 Image sourced from Whitton Malt House Facebook
Hunky Dory
Easter Saturday at Hunky Dory's is perfect for the littler kids. Let them burn some energy climbing the indoor play gym while adults sit back and enjoy a coffee and delicious zeppole! More info via: Hunky Dory | Facebook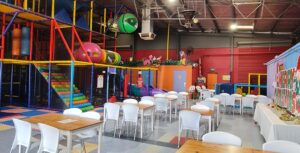 Yoga
Take the kids to unwind and renew after a busy term at school with Janine Murphy's kids' yoga classes at Griffith City Library. These classes run for 30 minutes on Tuesday 11 and Wednesday 12 April 2023 and are a great way to get the kids moving after consuming all of that chocolate over the long weekend. Bookings essential via: Griffith City Library Events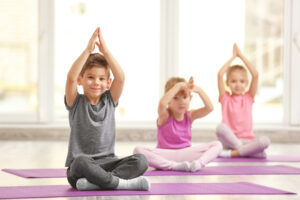 Free Movie Screenings
As usual, Griffith City Library have the kids covered when it comes to fun school holiday activities! On Friday 14, Monday 17 and Friday 21 April 2023, there will be special movie screenings for the kids to enjoy. These are free! Find out more via: Griffith City Library Events
Art and Craft Workshops
Griffith Regional Art Gallery is the place to be with Claude Monet inspired painting workshops for the kids on Sunday 16 April 2023. Tambourine Art Studio will be running these fabulous classes, exploring the work of Claude Monet. While the kids enjoy these workshops, check out Kim Gibbs' exhibition 'The Wandering Echidna' showcasing a collection of animal sculptures created from locally sourced corrugated iron that was saved from landfill. More information via: Griffith Regional Art Gallery
Griffith City Library are hosting some free Printmaking workshops on Tuesday 18 April 2023 as well as Air Dry Clay workshops on Wednesday 19 April. These workshops will be so much fun and will ensure the kids creative juices are flowing throughout the holidays. Bookings via: Griffith City Library Events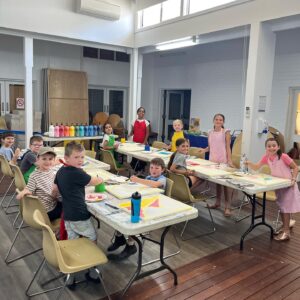 Live Music in the Park – CANCELLED
Griffith Regional Theatre is presenting Grass Roots Concert again this year, unearthing talent from our local young musicians in the picturesque setting of Griffith Community Gardens. This event is taking place on Thursday 13 April 2023 and is free for all and will be a fantastic afternoon with family and friends. More information via: Grass Roots Outdoor Concert | Griffith Regional Theatre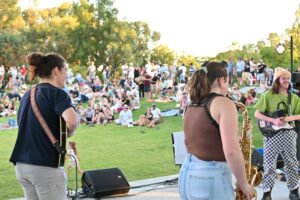 Up Close and Personal with the Animals
Take the kids on a 2.5 hour horse drawn cart around the 207 hectare riverside property of Altina Wildlife Park, seeing the incredible animals (lions, crocodiles, zebras, rhinos, giraffe, lemurs to name a few!) up close and personal. This is an unforgettable experience for all, learning about the endangered animals in an open layout. Costs start at $20 via Altina Wildlife Park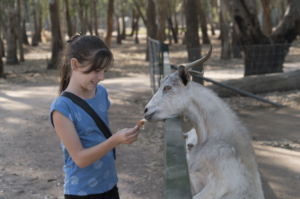 Splash Park
Home to the tallest climbing frame in the Southern Hemisphere, City Park is always available if you're after a free activity for the kids. Bring their togs so they can run loose in the splash park. Take a picnic and let them enjoy lunch while you sit back and read a book under the shady trees. City Park is centrally located in Kookora Street, Griffith.
Back to Nature
Cocoparra National Park provides a delightfully picturesque backdrop to Griffith and is a sanctuary for nature loving families. Take a hike along one of the many bushwalking trails and finish with a BBQ lunch. Or if you'd prefer to be closer to town, take the heritage trail walk to Hermit's Cave, perched on Scenic Hill, for incredible vistas overlooking the town. There is always Lake Wyangan too if you're the kind that likes to take in the water views over a picnic lunch. The kids will love exploring the picnic area, feeding the animals, kicking a ball around or playing in the park.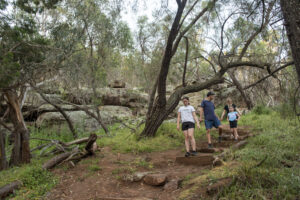 Indoor Entertainment
No school holiday is complete without some indoor fun too, especially on the wild weathered days. Star Bowling, Griffith City Cinemas and Family Funland have you covered for all ages! There is a soft-play arena for the little ones, a bouldering course, arcade games, laser tag and so much more. You will have the whole family entertained all day long – including mum and dad! More info via: Family Funland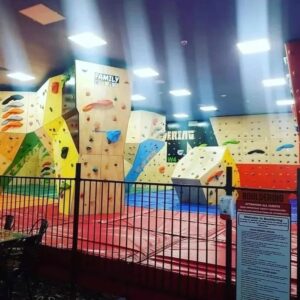 Circus!
Cirque Mother Africa returns to Griffith on Sunday 23 April 2023, with a breath-taking show directly from Africa. The 90-minute entertainment extravaganza combines the best of contortion, acrobatics, traditional dance, live music, balancing and so much more! This show will captivate young and old audiences, making for a great family activity to finish off the school holidays. Cost: from $59 via Cirque Mother Africa | Griffith Regional Theatre
Food Glorious Food
We couldn't go without mentioning the delicious mouth-watering food that you will be able to spoil the kids with! The best in pizza, pasta, homemade gelati, cannoli and so much more. You will want to wander down the tree-lined main street and try out all the local eateries to decide who does your favourite dish. More info via: Food – Visit Griffith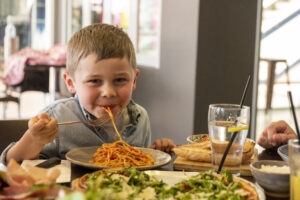 Make a Splash
If the kids feel like making a splash, Griffith Regional Aquatic & Leisure Centre has three indoor heated pools (including a toddler's pool) and a heated 10-seater spa where mum and dad can relax, plus a 50-metre outdoor pool!