Lifestyle Loop via Old Aerodrome Road – Suitable for Driving and Cycling
Please note it is illegal to hold and use a mobile phone at any time while driving or riding.
Embark on an exciting self-drive adventure around Griffith, NSW, and discover a variety of captivating points of interest along the way. Begin your journey at Pioneer Park Museum, where history comes alive through fascinating exhibits that showcase the region's rich pioneering heritage. Continue on to Griffith's Big Wine Bottles, iconic structures that pay homage to the city's renowned wine industry and serve as a unique photo opportunity. Take a scenic drive and make your way to Lake Wyangan Picnic Area, a serene oasis surrounded by natural beauty, where you can unwind and enjoy a peaceful picnic amidst the tranquil waters. Don't miss The Lookout along the way, offering breathtaking panoramic views that will take your breath away. Sports enthusiasts will be delighted to find the Jack Shannon Tennis Court and Jubilee Oval, where you can witness the legacy of sports excellence or even engage in a friendly game. For a taste of the city's vibrant sports culture, visit the Griffith Regional Sports Centre, a bustling hub of athletic activities and events. Immerse yourself in the architectural beauty of the Council Chambers, a striking civic building that showcases the city's governance and pride. Experience the arts at The Regional Theatre, where captivating performances bring the stage to life, showcasing the talents of local and visiting artists. Conclude your self-drive adventure at Banna Avenue Retail and Dining Precinct, a bustling hub where you can indulge in shopping and relish a diverse range of culinary delights. Griffith, NSW, offers a captivating blend of history, natural beauty, sports, culture, and retail therapy, promising an unforgettable exploration for self-driving enthusiasts.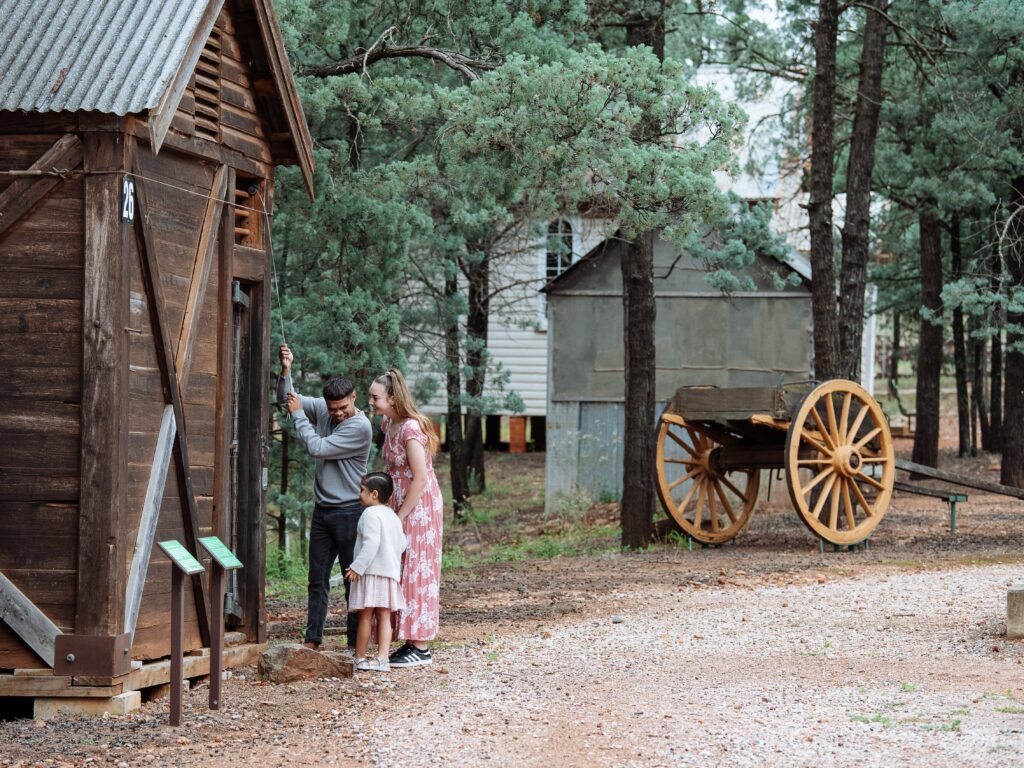 Pioneer Park Museum
Griffith Pioneer Park Museum was opened in April 1971 and is a popular community cultural facility, and valued repository of the region's unique history. The Museum consists of a number of distinct elements: Bagtown 'Old Griffith' main street; The Italian Museum depicting Griffith's unique Italian settlement; Wine and Irrigation Building – telling the story of the local wine industry and irrigation history; Machinery and vehicle displays as well as an extensive and eclectic collection of artefacts and memorabilia.
After exploring the Museum it is just a short drive to Hermit's Cave and Lookout overlooking Griffith's lovely rural skyline.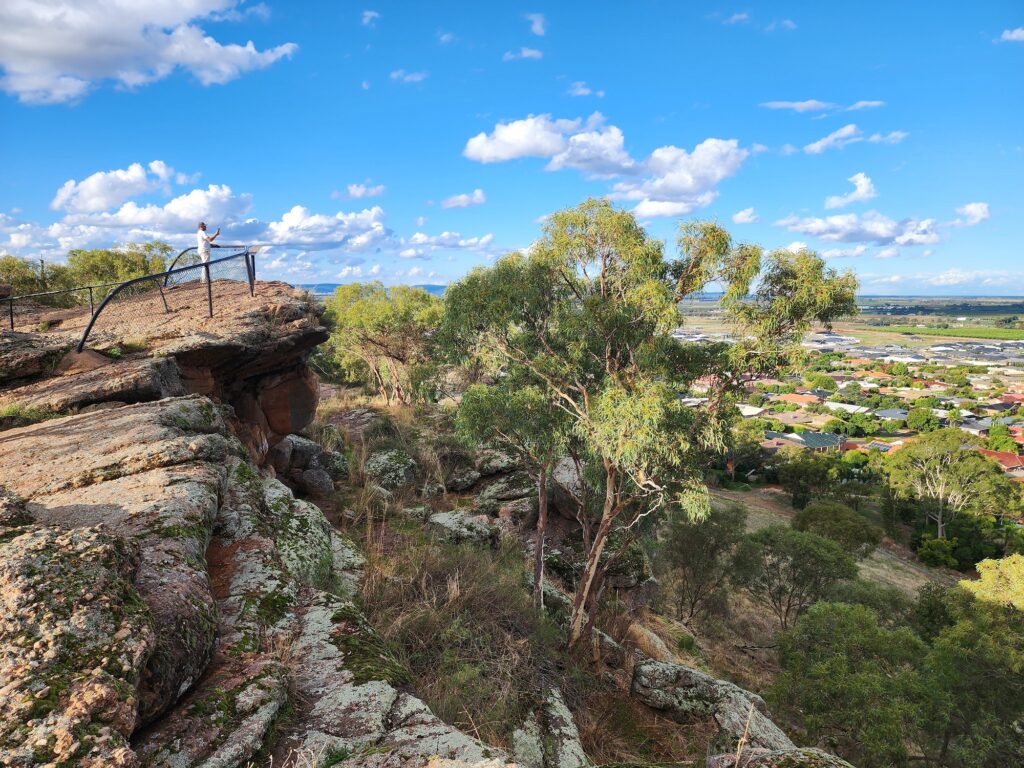 Scenic Drive and Hermit's Cave Lookout
Hermit's Cave and the main lookout are well worth a visit – perched high on the ridge of Scenic Hill, part of the McPherson Ranges, it offers a fabulous view across irrigated farmland to the Binya Hills and Cocoparra National Park in the distance. A great spot to stop and take photos!
The cave was once the home of Valerio Ricetti, a miner from Broken Hill who lived the life of a hermit in his cave on Scenic Hill for many years. A keen gardener, Valerio transformed the rocky escarpment and created dry-stone-walls, paths and stone steps creating access to areas that he called, the Garden, the Chapel and the Main Cave. The walls of the Main Cave feature paintings of small daisies, created by Ricetti. The living areas and stone walls are marked on the storyboard and form part of a signed heritage trail/walk.
Wear sturdy walking shoes as the paths are uneven.
Lake Wyangan Picnic Area
A ten-minute drive northwest of Griffith will lead you to Lake Wyangan.
Lake Wyangan offers a delightful setting for a picnic. Take advantage of the sheltered picnic areas or barbecue facilities that are found throughout the large grassed reserve. There is ample space for a game of cricket, to ride a bike or enjoy a stroll.
Free boat ramp access and jetty available. Free camping is permitted.
The lake was formed in 1957 using the remains of a gypsum mine and a natural swamp area.
Griffith's Big Wine Bottles
Coffs Harbour may have the Big Banana and Woomby has the Big Pineapple….. but Griffith has the Big Wine Bottles!
Take the scenic route through Remembrance Drive towards the Griffith Airport and stop at the entrance for an Instagrammable moment with the oversized wine bottles.
Measuring more than 3 metres tall, the eight wine bottles represent local wineries and some of the regions top drops.
Like to take one home as a souvenir? Visit one of the many local cellar doors and grab the real stuff instead….it's much tastier!
Jack Shannon Tennis Courts and Jubilee Oval
The Jack Shannon Tennis Courts are a haven for tennis enthusiasts, offering facilities for players of all skill levels. Whether you're a casual player or a seasoned pro, these courts provide the perfect setting to engage in thrilling matches and improve your game. Jubilee Oval is a great open space which hosts various events, including community sporting activities.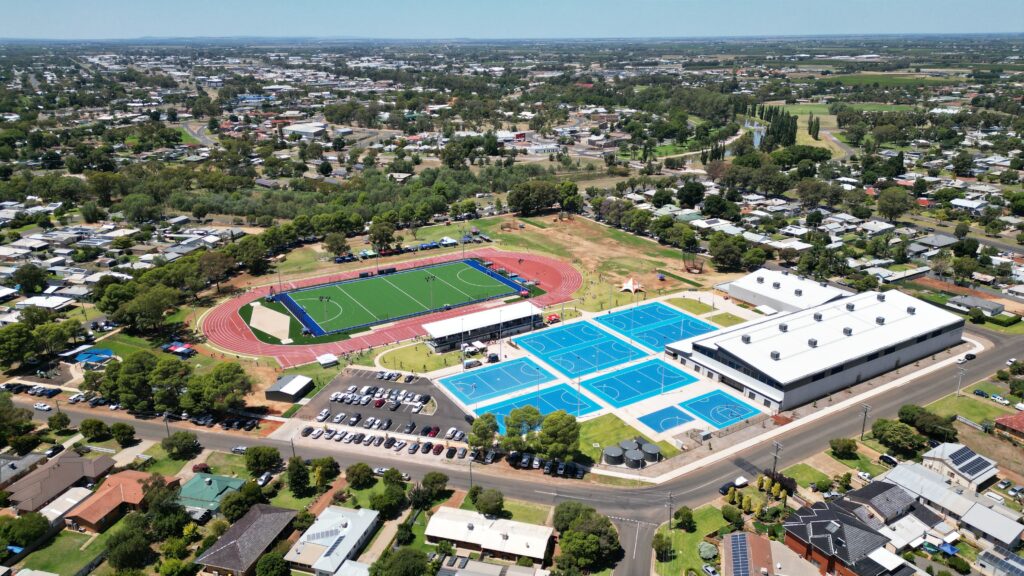 Griffith Regional Sports Centre
The Griffith Regional Sports Centre is a state-of-the art, compliant regional and state standard facility.
Delivering new facilities for basketball, netball, hockey and athletics, creating an inclusive regional sports hub in the Western Riverina.
A new building has further extended the centre to now feature seven indoor basketball courts, adaptable for netball, indoor hockey, badminton, wheelchair rugby and volleyball with seating for over 1000 people, change rooms, offices, meeting rooms, a canteen and public amenities.
Outside, the complex boasts seven all weather netball courts under lights and a grandstand to provide spectator comfort for the outside facilities.
In addition, a synthetic athletics track allows local athletes to train and compete on a compliant and high-performing track and an artificial turf hockey pitch provides a high quality all-weather surface for players.
The Griffith Regional Sports Centre is part of a wider Sporting Precinct which incorporates several sites around the city including the 50-metre outdoor pool located at the Griffith Regional Aquatic Leisure Centre, catering for regional and state level events and competitions.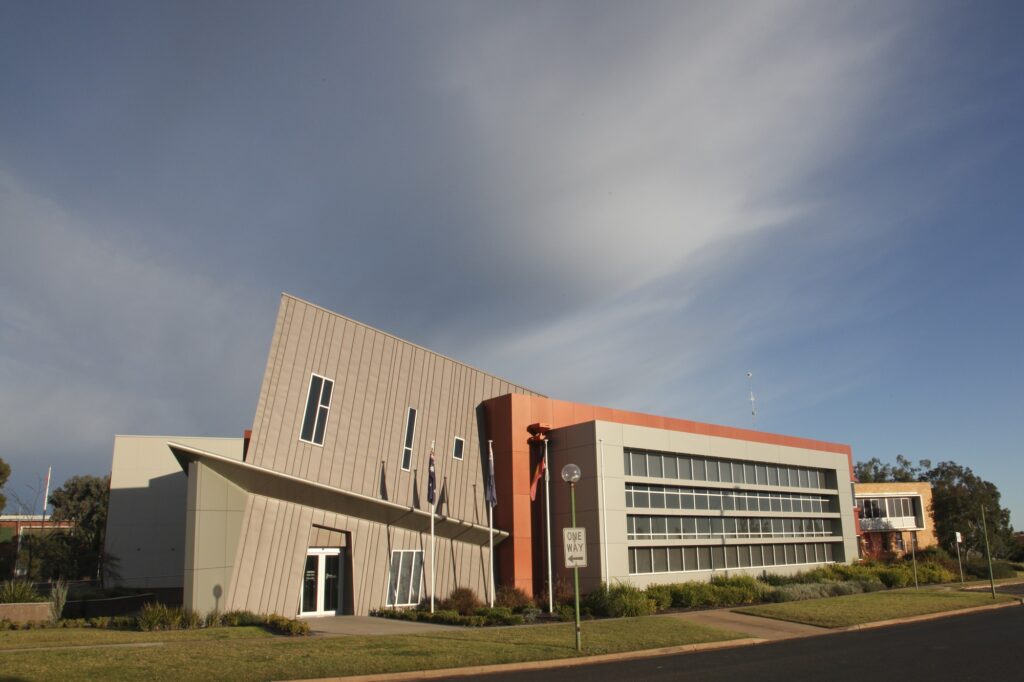 Griffith City Council Chambers
The modern architecturally designed building that houses Griffith City Council Chambers is a striking testament to contemporary design and functional excellence. Its sleek and captivating facade immediately catches the eye and stands as a testament to the city's forward-thinking approach and its dedication to creating a functional, aesthetically pleasing, and inclusive space for local governance.
Griffith Regional Theatre
Griffith Regional Theatre is the Western Riverina's premier performing arts centre with a 523-seat auditorium and state-of-the-art sound and lighting equipment. Griffith Regional Theatre offers a wide variety of touring and local performances including drama, dance, circus, music, comedy and children's theatre.
The Theatre is available for hire and is used by conference organisers, touring performers, schools, local artists, Dramarama, dance schools and amateur theatre groups.
Visit the website or contact the Box Office for details of current shows – there is always something happening!
You can also view the renowned Soft Sculptured Curtain – a unique textile work depicting the local landscape, created by members of the local community – (available for viewing at selected times for a small fee) – or ARTSPACE in the Theatre foyer – a rotating exhibition of works by local artists.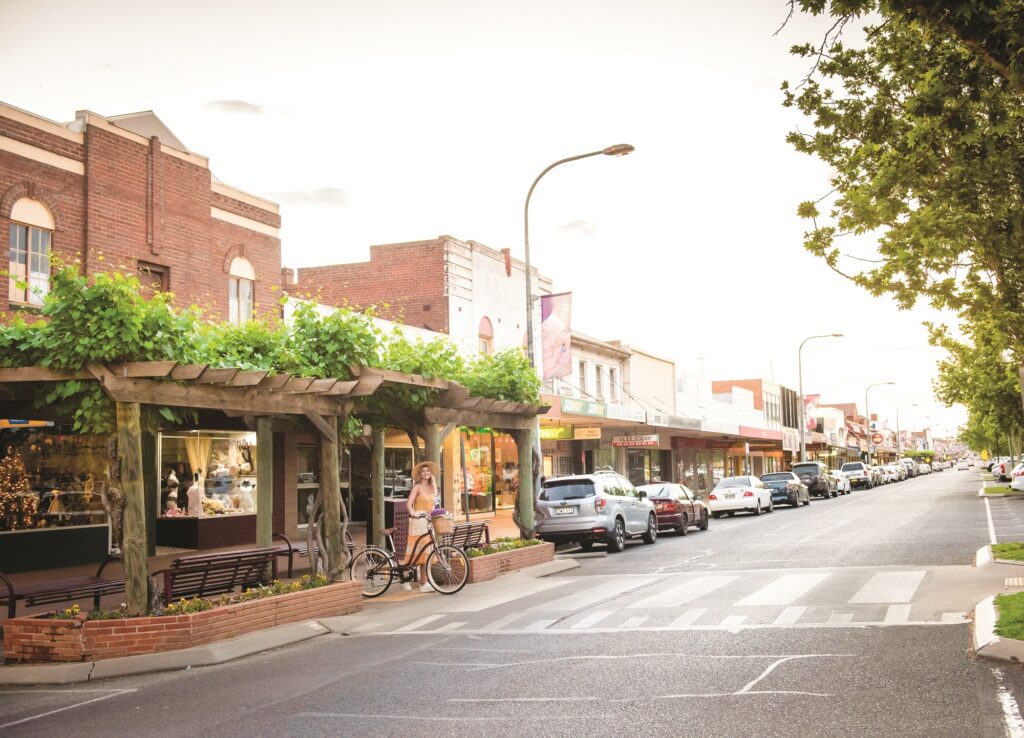 Banna Avenue Retail & Dining Precinct
The picturesque tree-lined main street, Banna Avenue, stretches over several blocks and offers a unique shopping experience where you can window shop with a gelato, meet a few friendly locals whilst exploring the many enticing retail stores and savour some of Griffith's culinary delights at one of the many cafés and restaurants.