Discovery Drive via Scenic Drive – Suitable for Driving and Cycling
Please note it is illegal to hold and use a mobile phone at any time while driving or riding.
As you embark on a self-drive adventure around Griffith, NSW, you will encounter a variety of captivating points of interest. Start your journey at the vibrant Banna Avenue Retail and Dining Precinct, where you can indulge in a delightful shopping experience and savor delicious cuisine at the numerous restaurants and cafes lining the street. Next, make your way to City Park, a picturesque oasis offering lush green spaces, charming walking paths, and peaceful picnic spots. Discover artistic beauty at Centenary Sculptures in IOOF Park, where remarkable sculptures commemorate Griffith's rich heritage. A visit to Saint Alban's Anglican Cathedral allows you to admire the grandeur of this historic place of worship. Continue your exploration with a glimpse of the prominent Griffith Base Hospital and Saint Vincent's Private Hospital, two vital healthcare institutions in the region. For those seeking spiritual solace, the Griffith Uniting Church and Sacred Heart Catholic Church offer serene atmospheres for reflection. The Scenic Drive treats you to breathtaking views of Griffith's surrounding countryside, showcasing the area's natural beauty. Immerse yourself in history at the Pioneer Park Museum, where you can learn about the town's pioneering days and agricultural heritage. The Presbyterian Church stands as a testament to Griffith's religious diversity and architectural charm. Sports enthusiasts will appreciate a stop at Ted Scobie Oval, a bustling venue for local sporting events. Finally, a visit to the Griffith Cemetery offers a moment of contemplation and remembrance amidst the tranquil surroundings. As you explore these captivating points of interest, your self-drive adventure in Griffith will be filled with cultural, natural, and historical delights.
Banna Avenue Retail and Dining Precinct
Griffith certainly punches above its weight as a regional shopping mecca. For fashion, gifts and lifestyle needs, you'll find it all in our boutiques, shopping malls and specialty outlets. The picturesque tree-lined main street, Banna Avenue, stretches over several blocks and offers a unique shopping experience where you can window shop with a gelato or meet a few friendly locals whilst exploring the many enticing retail stores. Along Banna Avenue you will also find a fabulous selection of Griffith's eating houses covering many varying cuisines and delectable delights – with such an abundance of world class local food producers and passionate chefs, it is no wonder that Griffith has become a destination for foodies.
Banna Avenue Monuments and Memorials
Along Banna Avenue you will find many monuments and memorials representing important parts of Griffith's history, art and culture.
To find out more, head to the Monuments and Memorials page.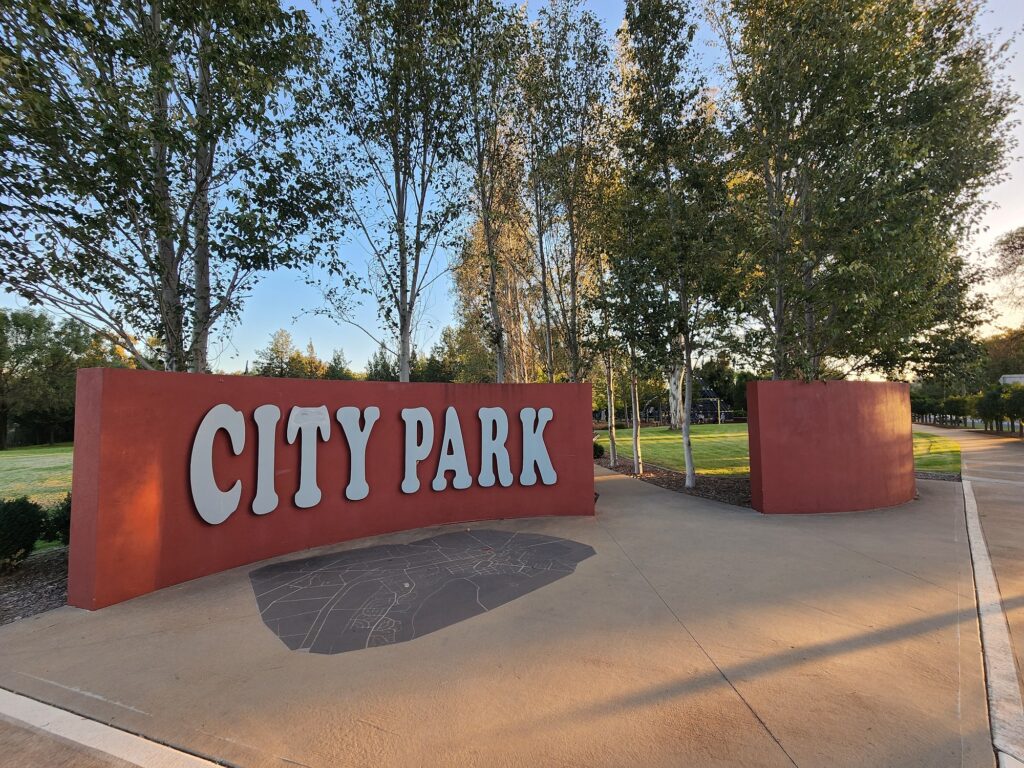 City Park
City Park deserves to be on the must-do list in Griffith. City Park made the Weekend Telegraphs TOP 10 playgrounds in NSW with the tallest climbing frame in the Southern Hemisphere, a fabulous splash pad area (pack the kids togs) and a double flying fox. Plus other swings, a fenced toddler playground, lawn for running or relaxing with a book, free exercise equipment and lovely paved walking track around the park and along the canal to stretch the legs.
City Park also has a number of free barbecues, picnic tables and a water bottle refill station.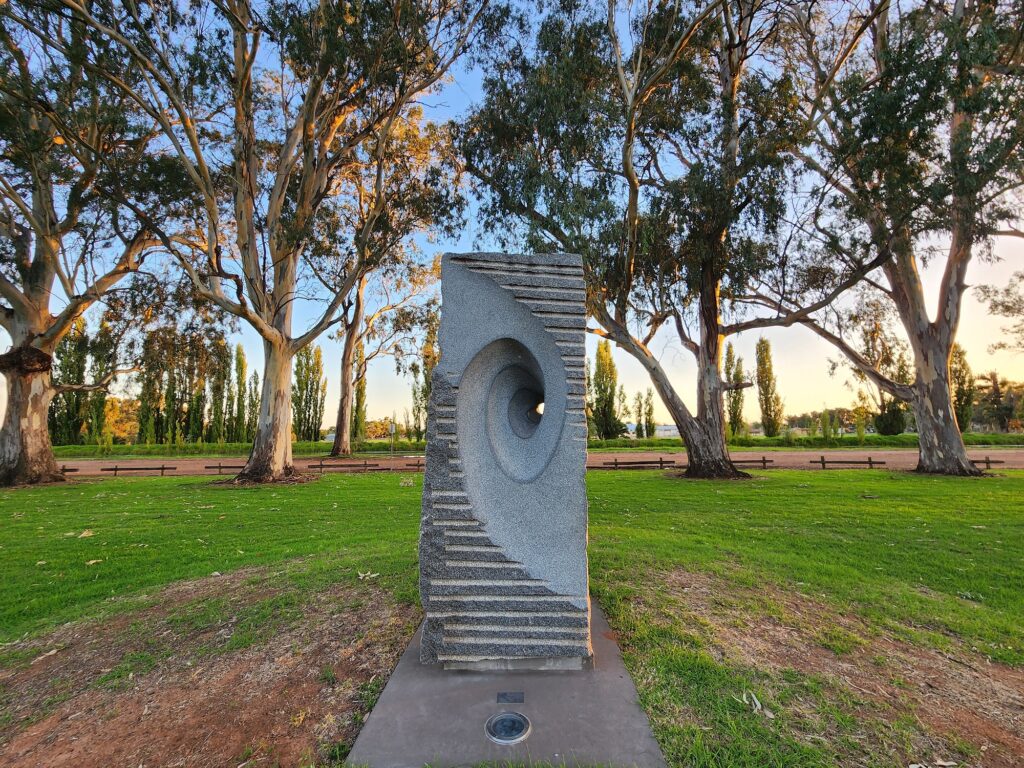 Centenary Sculptures in IOOF Park
Griffith celebrated 100 years of progress in 2016. The Centenary Celebrations hinged around the 17 day International Sculpture Symposium, which was held during May. Seven of the world's best hard stone sculptors converged on Griffith to transform 20 tonnes of granite into beautiful pieces of public art. The granite sculptures, which reflect the theme 'Griffith's cultural diversity and the meaning of water' are located on Centenary Walk, in the IOOF Park in Kookora Street.
The sculptures were launched in August during the Centenary of Griffith celebrations. Story and signboards provide details of the international sculptors and the generosity of the local business community and people of Griffith. Lit up at night, the Sculptures make great night viewing.
St Alban's Anglican Cathedral
St Alban the Martyr Anglican Cathedral is the flagship building for the Diocese of the Riverina and plays an significant role in the history of the City of Griffith. The parish itself was established in 1920 and offers a place of worship and ministry for the people of Griffith and the surrounding areas of Yenda, Yoogali, Hanwood and Rankin Springs.
St Alban the Martyr Anglican Cathedral is the flagship building for the Diocese of the Riverina and plays an significant role in the history of the City of Griffith.
The parish itself was established in 1920 and offers a place of worship and ministry for the people of Griffith and the surrounding areas of Yenda, Yoogali, Hanwood and Rankin Springs.
The original parish of Griffith was established in 1920 during the initial years of the town's growth. The first services were held in the town picture theatre before a Rectory (Priests House) was built in 1923. A church of humble beginnings, Weddings and Baptisms were conducted in the lounge room of the Rectory until the Church Hall was dedicated and opened by the then Bishop of London, A.F. Winninton-Ingram, on the 22nd of March 1927.
In September 1937, the groundwork for the building of a church was laid by a Griffith Parish delegation, led by the Parish Priest, Fr W.G. Bennett and in 1947 the Architect Louis R. Williams was commissioned to design a church which would be "spacious, lofty, seating around 300 in the Nave with ample room for extra seating, cloistered aisles, Chapel, Choir Gallery, separate Baptistry, good vestry accommodation, no doors opening to the southwest and to be free of any dust-catching ornamentation".
St Alban's combines modern and traditional architecture, designed for Australian conditions and was described by Louis Williams as "20th Century Gothic".
18 years after the foundations were laid, the Church of St Alban the Martyr was opened and dedicated by the Bishop on Saturday, 16th April, 1955. An affair not to be missed, the Bishop was greeted with a fanfare of trumpets and crowd of approximately 750 people seated inside the church and a further 1200 celebrating the opening outside. (Source: www.griffithcathedral.com.au)
Hospital Precinct
The Griffith Base Hospital, located on Animoo Avenue, is a 119 bed facility with 100 hospital care beds and 10 maternity beds. Each year it supports approximately 19,500 emergency presentations, 2,500 operations and 600 births.
Griffith Base Hospital provides and a 24 hour Emergency Department (ED) with 15 ED spaces. The ED is supported by an Intensive Care Unit (ICU) and also equipped with telehealth cameras to connect the team in Griffith with specialists across the NSW Critical Care Advisory Service.
The hospital provides a range of specialist services (both resident & visiting) including emergency medicine, critical care, general medicine, surgery, paediatric medicine, oncology, obstetrics, respiratory medicine, renal dialysis, Hospital in the Home and rehabilitation.
Additional services include physiotherapy, dietetics, social work, pharmacy, occupational therapy and Aboriginal health. There are also a range of diagnostic services including Pathology, CAT Scans, Nuclear Medicine, Ultrasound and General X-Ray. (Source: www.mlhd.health.nsw.gov.au)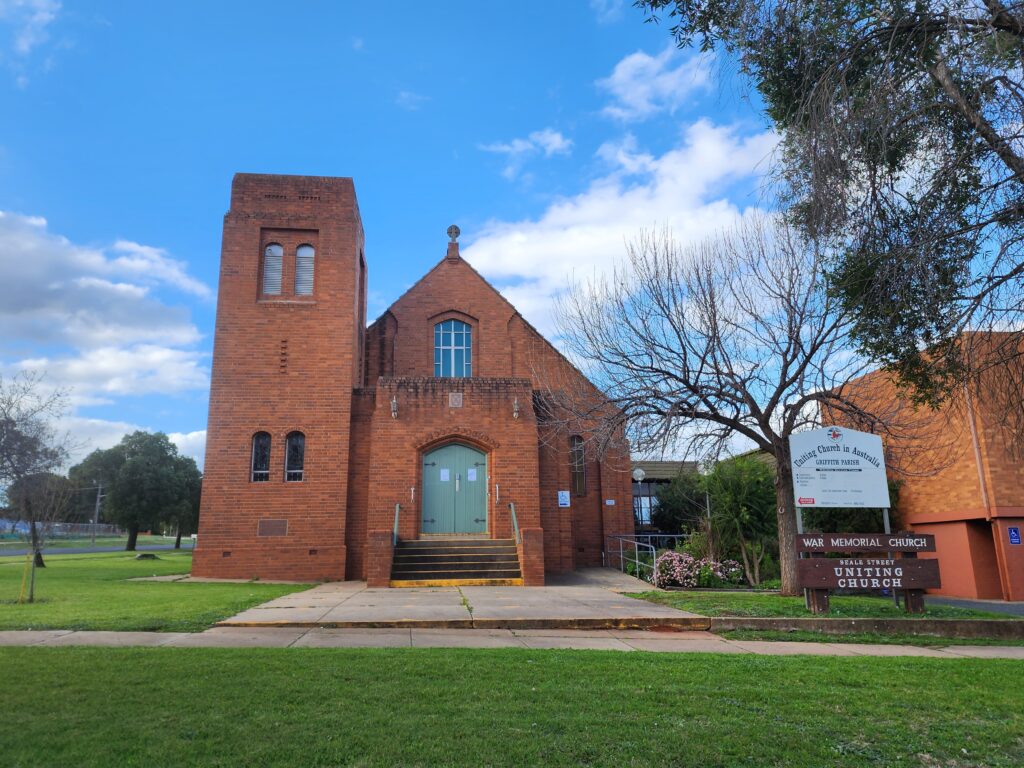 Griffith Uniting Church
The Griffith Uniting Church, located on the corner of Animoo Avenue and Beale Street, is a War Memorial Church and part of the Presbytery of the Riverina and the NSW & ACT Synod. It was built for the Griffith Presbyterians as a War Memorial Church in 1957 and became part of the Uniting Church in 1977. Services include Cook Island, Fijian and Tongan worship groups. (Source: www.churchesaustralia.org)
The Sacred Heart Catholic Church
The Sacred Heart Catholic Church, Griffith, located on Warrambool Street, is part of the Parish of Griffith and the Diocese of Wagga Wagga. The Church celebrated their centenary in November 2021.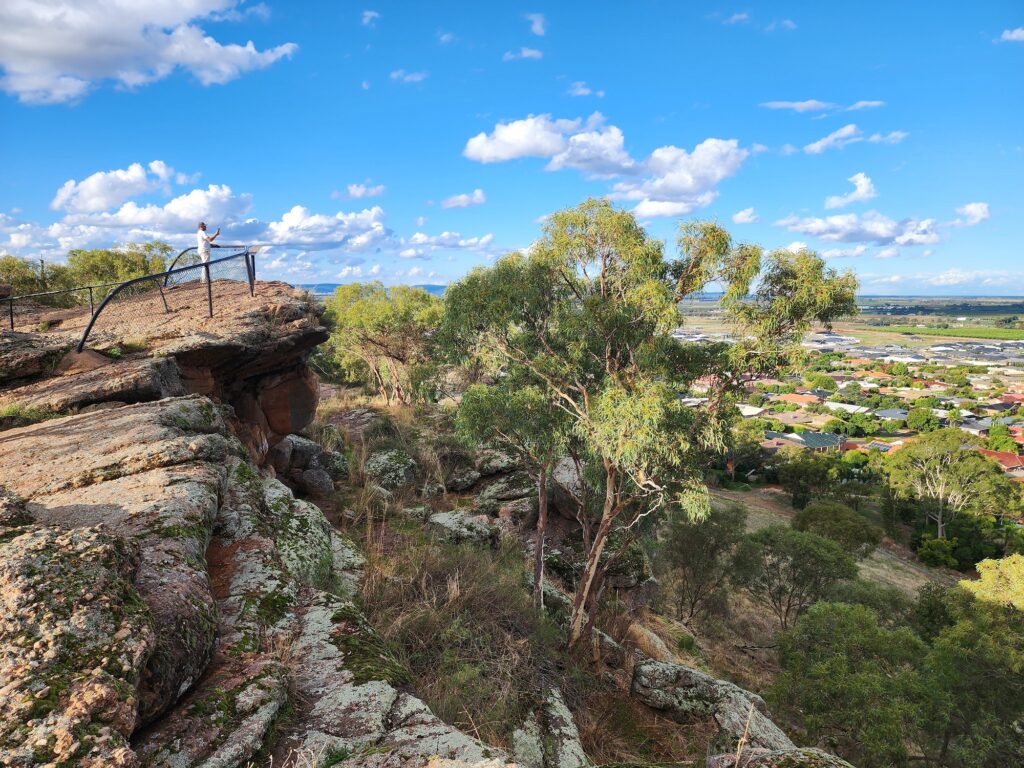 Scenic Drive and Hermit's Cave Lookout
Hermit's Cave and the main lookout are well worth a visit – perched high on the ridge of Scenic Hill, part of the McPherson Ranges, it offers a fabulous view across irrigated farmland to the Binya Hills and Cocoparra National Park in the distance. A great spot to stop and take photos!
The cave was once the home of Valerio Ricetti, a miner from Broken Hill who lived the life of a hermit in his cave on Scenic Hill for many years. A keen gardener, Valerio transformed the rocky escarpment and created dry-stone-walls, paths and stone steps creating access to areas that he called, the Garden, the Chapel and the Main Cave. The walls of the Main Cave feature paintings of small daisies, created by Ricetti. The living areas and stone walls are marked on the storyboard and form part of a signed heritage trail/walk.
Wear sturdy walking shoes as the paths are uneven.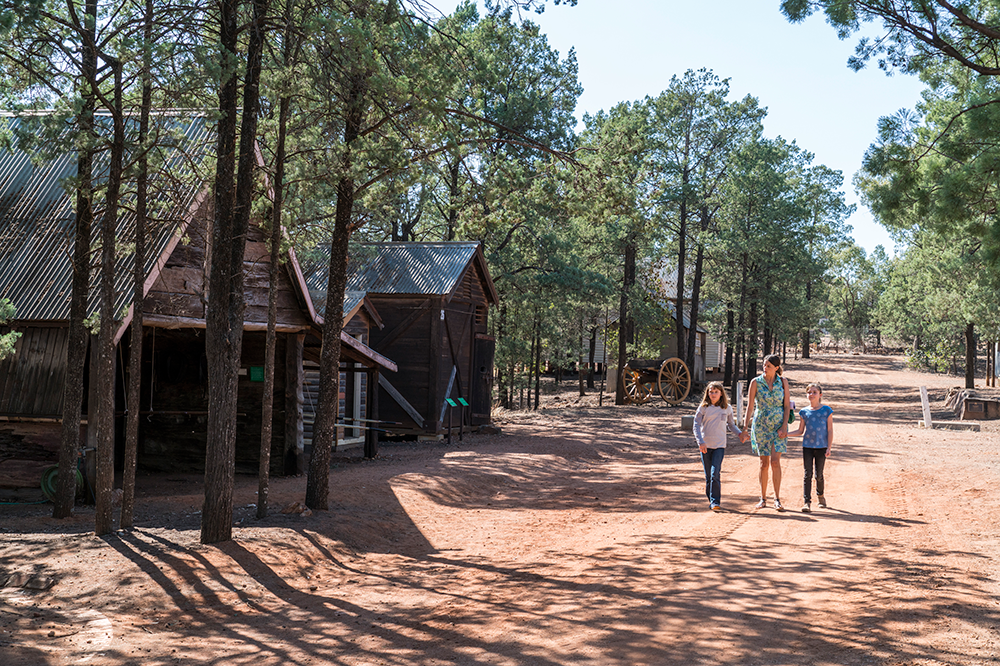 Griffith Pioneer Park Museum
Griffith Pioneer Park Museum was opened in April 1971 and is a popular community cultural facility, and valued repository of the region's unique history. The Museum consists of a number of distinct elements: Bagtown 'Old Griffith' main street; The Italian Museum depicting Griffith's unique Italian settlement; Wine and Irrigation Building – telling the story of the local wine industry and irrigation history; Machinery and vehicle displays as well as an extensive and eclectic collection of artefacts and memorabilia.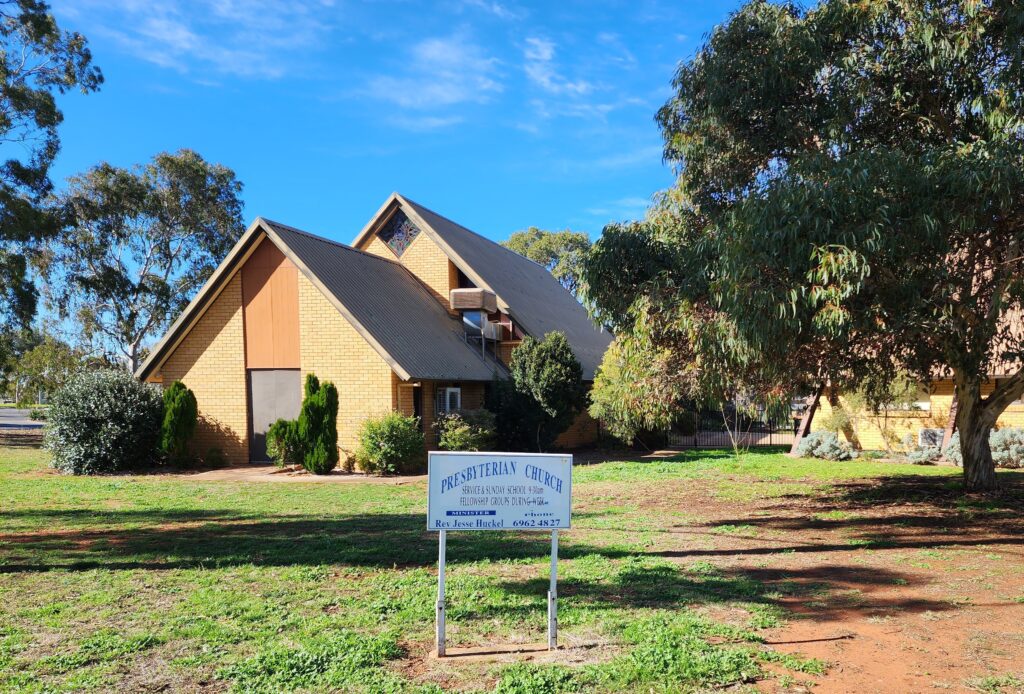 Griffith Presbyterian Church
The Griffith Presbyterian Church is located on the corner of Blumer Avenue and Doolan Crescent, opposite Ted Scobie Oval, Collina. The Church is part of the Presbytery of Riverina.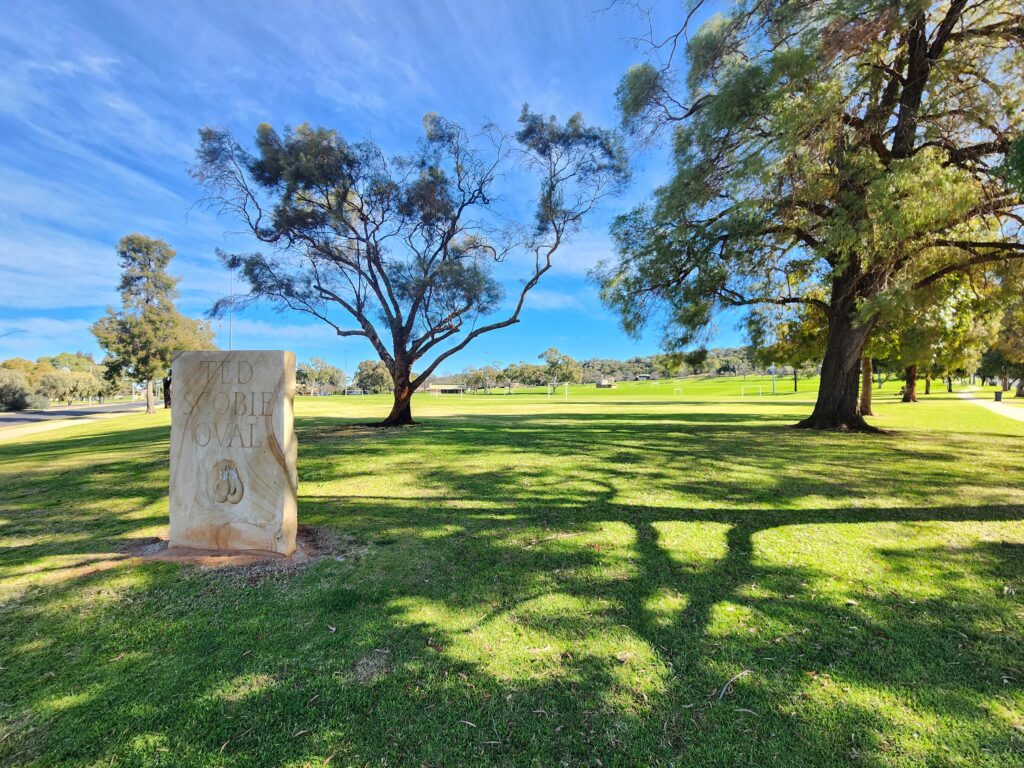 Ted Scobie Oval
Ted Scobie Oval, located in Collina, Griffith is a beloved community sports ground that holds a special place in the hearts of locals. Named in honor of a prominent figure in Griffith's sporting history, the oval provides a picturesque setting for various outdoor activities. With its well-maintained grassy fields, and surrounding trees, it offers a welcoming environment for both players and spectators. The oval is a hub for a wide range of sports, including Australian Rules football, soccer, cricket, athletics and also has a number of permanent exercise machines for free public use. It has witnessed countless memorable matches, celebrations; including the Sikh Games held on the June long weekend every year, bringing people together and fostering a strong sense of community spirit.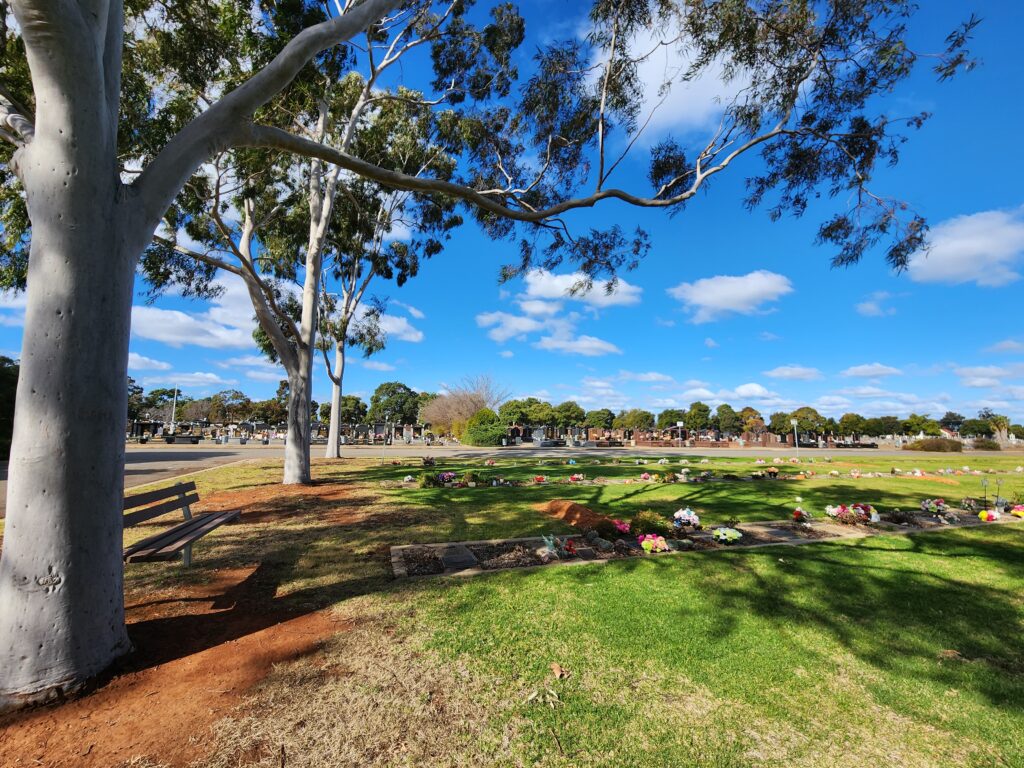 Griffith General Cemetery
The Griffith General Cemetery is located on the corner of Blumer Avenue and Wakaden Street. The cemetery's tranquil atmosphere is accentuated by beautiful landscaping and carefully tended gardens, providing a peaceful setting for contemplation and remembrance. The cemetery has a wide range of memorials ranging from lawn plaques to large ornate headstones and mausoleums.